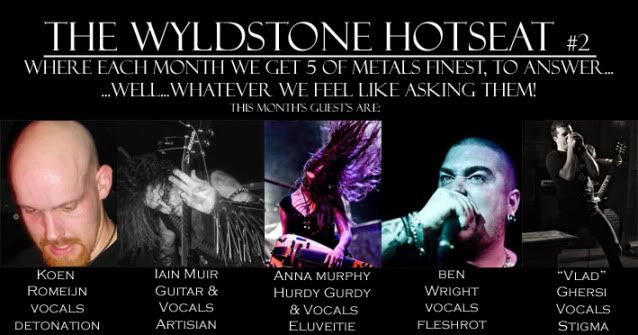 Question 1: How and when did you first get into metal?
Koen:
I guess I was about 13 years old, when a friend of mine in school gave me a mixed tape, along with the words 'you have to check this shit out'. On the tape were songs from
Metallica, Megadeth and Sepultura
. I remember being hooked on it instantly, I always loved music, but this was the style I had been looking for. I also remember that
Sepultura
took some more time to get into, because of the vocals haha. Never heard anything like that before.
Iain:
Tape trading at school, probably about 9 or 10 years old.
Anna:
I got into metal about 7 years ago (I was 12,13 years old when I got into heavier music) but I honestly don't remember how. I've always listened to many different kinds of music and not just one genre. All I remember is buying a
Darkthrone
CD at an airport somewhere with my dad which really got me into black metal, hehe.
Ben:
Back when I was about 11 I heard metallica blasting out my brothers room, I caught on, stole the vinyl and it all began from there!
Vlad:
I first got into hardcore, when I was 13, but my ears wanted to bleed even more, so I first got into
Raised Fist
and
Stampin Ground
, which were the right compromise, being the real pioneers of metalcore, and then moved to
At The Gates
and
Dark Tranquillity
!
Question 2: What was the first CD/LP you remember buying?
Koen:
That was
Metallica
– And Justice for all…
Iain:
It was in 1986, I bought "Reign In Blood" on tape, it was the first original I had, everything else was copies from tape trading.
Anna:
I think
The Verve
's "Urban Hymns" when I was around 7 or 8
Ben:
The first CD I ever bought was "Hammer Smashed Face" by
Cannibal Corpse
, before then Id survived on hand me downs from my bro
Vlad:
I bought
Metallica
's "Kill Em All" and "Dookie" by
Green Day
the same day ahah, I was on holidays in Paris, 13 years old and still a bit confused ahah!!
Question 3: Who are your biggest influences?
Koen:
I don't really have one particular influence, but
Megadeth, Morbid Angel
and
Dissection
really inspired me to write my own music when I started to play guitar.
Iain:
Henry Rollins
(
Rollins band / Black Flag
), Dark throne, Minor Threat, crossed out, Tsjuder, Deeds of Flesh, Motorhead, Neurosis.
Anna:
Manes
from Norway. What they have done is the definition of music for me.
Ben:
The reason I do what I do is Mr Barnes for his
Cannibal Corpse
days and I'd say my most recent influences would be John from
Dying Fetus
and George Fisher of Corpse
Vlad:
I think we're mainly influenced by
The Black Dahlia Murder, August Burns Red
and british finests
Sylosis
, but who got the chance to listen to our new album "Concerto For The Undead" so far, found lots of elements comparable to
Darkest Hour
, so that's definitely another great band to add to the list!
Question 4: What is the highlight, of your career so far?
Koen:
We had a couple of really good periods with
Detonation
. A couple of good European tours and cool shows, but the thing that stuck with me the most were the 2 shows we did in New Dehli, India in 2008. Amazing experience to be able to play your music on the other side of the world in front of a thousand Indian people going crazy.
Iain:
Shattering a guys jaw in Glasgow the night before we played with
Gorgoroth
in 2007, i got away with it and we did a great gig
Anna:
Playing in India in front of 20'000 people. Apart from that, the amount of tours we can join.
Ben:
So far would be either being signed to our first label for Decomposition Of Humanity or playing our first overseas show.
Vlad:
I think playing Wacken Open Air in 2005, touring Europe last year and supporting
Bleeding Through
and
Bring Me The Horizon
in their italian shows! Also recording our new record was a great moment for us, I really hope lots of people will dig our stuff as well!
Question 5: ...and what about the lowest point?
Koen:
We also had a lot of bad luck with touring, unfortunately… a lot of metal bands experienced the same things. Bad promoters, crappy tour busses, lousy turnouts. But the worst I ever experienced was doing a show in Wales in a bar, with basically 5 people watching, no light show whatsoever, no stage, very sad haha..
Iain:
Playing with
Mayhem
, they are totally subhuman.
Anna:
Sitting at home with nothing to do.
Ben:
Losing all my members and being left to start all over again.
Vlad:
Playing a show for 2 guys in France ahah, that was so bad, but an important experience anyway!
Question 6: What's the best practical joke one of your band mates
has pulled off on tour?
Koen:
Oh man…where to start. A lot of crazy stuff always happens on the road, especially on those European trips. I can't remember one specific thing though, maybe that has something to do with all the heavy drinking.
Iain:
We load in, I go to the gym, we play, we load out, we leave, I try to have as little contact with people on tour as possible.
Anna:
Hard to say, so much stupid crap happens on tour... It was pretty funny when we were gaffa taping someone's bunk completely shut (he had a girl with him). From time to time we buy stupid shit like megaphones, light sabers and weird costumes to have fun with...
Ben:
Probably when we all told matt (drums) to get on a different train in Sweden and he ended up in some strange farm town while we made our way to the hotel, he wasn't too happy!
Vlad:
We're funny guys, every show or tour is just fun and jokes for us, so it's pretty hard for me to remember one in particular... well, this summer our guitar player Andrea faked to be kidnapped while we were stuck in a queue on the german motorway, he got his hands tied with a rope and tape on his mouth, I still think the cars close to us thought that was real!
Question 7: If metal didn't exist! What do you think you'd be doing with your life?
Koen:
Gaming 24/7, or work at a music store or something.
Iain:
Guitar and vocals in but - old school hardcore -
Crossed out, Minor Threat, Discharge
style music. or on tour with the Parachute regiment shooting Taliban.
Anna:
I'd have my 2,3 electronica/pop projects and play bass in a post-rock band.
Ben:
Probably be a bike builder or a Tattooist I'd imagine
Vlad:
I'd be playing fast and aggressive music ahah!! I don't know, I really dedicated the best years of my life to this, so I can't think about something else, and hope this is just the beginning of good things to come!
Question 8: What's your craziest experience of your fans?
Koen:
I once had a girl asking me for a pick after the show, and she went to the toilet with it. When she came back she proudly told me she had put inside her … you know what. Up to this day, I still don't understand why, but I thought it was pretty cool haha!
Iain:
A guy stage dived in Bulgary and hit the boom mic stand with his leg on the way off the vocal monitor, it chipped out half of my front tooth, we have had that kind of thing a lot though, the pits get so violent someone eventually gets cut open with something at some point.
Anna:
In India they went completely nuts and started tearing down some barriers way in the back, so we were forced to stop playing immediately and they wanted to get us back to the hotel. We pretty much refused and wanted to continue the concert which we eventually could after someone had made an announcement to calm the people down. That was pretty epic.
Ben:
Probably back in 2003 when I let a fan smash a pint glass over me head, splitting my head open covering me in clarot!! I think if I rememer I continued drinking out the glass and started chewing broken glass over the mic spitting blood at people!! One very messy might!
Vlad:
We got a pretty sick human pyramid in the UK, and a hell sick wall of death in one of the shows we did with
Bring Me The Horizon
ahah!
And The Most Important question of all!
Question 9: In The event of a zombie apocalypse! What would be your weapon of choice?
Koen:
Definitely a flamethrower, but with the extra possibility to shoot acid grenades with it!
Iain:
Zombie are pretend, but if they did exist it probably throw you at them.
Thanks for giving Artisian the time and space.
PRAY SATAN FATHER
Anna:
An out of tune hurdy-gurdy. Headshot!
Ben:
Chuck Norris.
Vlad:
Heavy machine gun?! yeah probably ahah!
Thanks guys for your time, and thank you for reading! Spread the word and they'll be lots more of this to follow.
For More Information On The Bands Interviewed, check out
Detonation:
www.detonation.nl
Myspace Page
Facebook Page
Artisian:
www.Artisian.co.nr
Myspace Page
Eluveitie:
www.eluveitie.ch
Myspace Page
Facebook Page
Fleshrot:
Myspace Page
Facebook Page
Stigma:
www.stigmahc.com
Myspace Page
Facebook Page