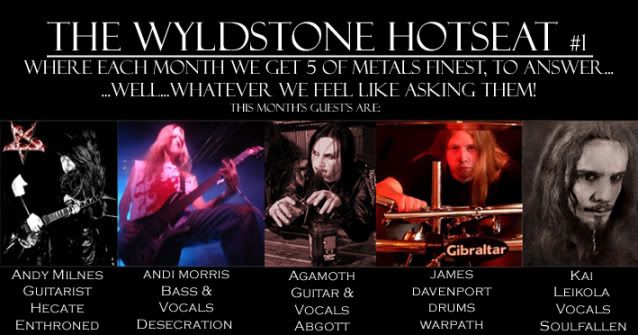 Question 1: How and when did you first get into metal?
Andy Milnes:
I played guitar from a young age and discovered
metal at the age of 9 or 10.
Andy Morris:
I was about 15 or 16. It was the usual
Metallica, Megadeth
and
Iron Maiden
introduction, got into
Pantera
at around the same time. Then I saw
My Dying Bride
supporting
Iron Maiden
in Newport, showing me a side of metal that I'd never experienced before and that had a huge impact! I'm still a massive MDB fans now, Around 1995 I was introduced to
Carcass, Morbid Angel
and
Machine Head
and it all went south of heaven from there.
Agamoth:
Horror movies were the trigger for me to get into metal. Mostly Dario Argentos ones as they featured
Iron Maiden, Motorhead
and such like bands. I got into metal properley in 1991.
James Davenport:
After hearing the track Zero Signal, by
Fear Factory
on the original Carmageddon pc game. (Driving over pedestrians to that song makes you feel warm and fuzzy inside.)
Kai Leikola:
I think it's quite the ordinary story as a teenager by my big brother & his friends. Never gotten out since.
Question 2: What was the first CD/LP you remember buying?
Andy Milnes:
Queen
"A Kind Of Magic" when I was around 6 or 7 in my pre metal days.
Andy Morris:
Def Leppard
"Hysteria" on LP. Also when I was about 9 or 10, I remember giving a school friend my £1 lunch money for a copied tape which had "Slippery When Wet" (
Bon Jovi
) and "Appetite for Destruction"
(
GUNS n' ROSES
) on it. That kid's still a dodgy dealer now 20 years on!
Agamoth:
"Blizzard Of Oz" (
Ozzy Osbourne
) on tape cassette.
James Davenport:
Fear Factory
"Demanufacture". That started my whole interested in metal and a later on, drumming.
Kai Leikola:
I could be mistaken, but I think it was
Sepultura
"Roots" and that is still an excellent album.
Question 3: Who are your biggest influences?
Andy Milnes:
My dad, Vlad the Impaler and Chewbacca.
Andy Morris:
I would say our main influences come from old school death and thrash bands.
Morbid Angel, Angelcorpse, Death, Vader
that kind of thing. There's occasional black metal influence too from the likes of
Immortal
etc, but it's mainly proper death metal.
Agamoth:
Tough One! 80's metal in general.
James Davenport:
I have many influences, mostly industrial/thrash bands from LA, Florida and
San francisco. I really like the
Testament
album "The Gathering" and the "Live in London" album/DVD. Not to mention I do like a little bit of extreme metal every now and then.
Hate Eternal, Nile, Serpents Rise
and lately a new band from the UK called
Era Untold.
Kai Leikola:
It's a cliche, but I would have to say life itself and everything that happens around you. What you see, hear, read and feel. And that is then converted into songs of death. How ironic is that!? Music is of course a big influence but we don't aspire to sound like anyone else.
Question 4: What is the highlight, of your career so far?
Andy Milnes:
Playing shows in the Czech Republic have been the best for me personally.
Andy Morris:
It's difficult to pick one highlight, Playing to about 8000 people in Indonesia was pretty mental, and Japan had some of the best gigs I've ever played. Having a snowball fight with
Onslaught
in Oslo was pretty cool, also getting Peter from
Vader
to get his tits out on command was bizarre.
Agamoth:
Well for me the highlight is simply to be able to record music and perform it live.
James Davenport:
Playing Wacken Rocks Festival 2009 with
Slayer
and a few other great bands but playing Japan in March this year will come pretty close.I seriously can't wait to get out there. I'd like to thank Miki of Rock Stakk Records for putting on this show and personally inviting us to play there!
Kai Leikola:
There are so many! Hearing your song on the radio for the first time, playing a sold out show, etc. But if I have to pick just one, I'd say going to Russia for the first time. That was just mind blowing.
Question 5: ...and what about the lowest point?
Andy Milnes:
Yeah we got to a venue once and we had to pay for our own beer!
That was hard to get over.
Andy Morris:
Once we were travelling from North West Spain to Strasbourg in a minibus, it took us 30 hours only to find when we got there the venue was being renovated and there was no gig. Ollie spent his entire birthday in that bus driving up there! What a waste of a trip.
Agamoth:
I don't have any to be honest.
James Davenport:
There hasn't really been a low point… we all stay positive and put 250% each into the band.
Kai Leikola:
I think there are a dozen of low points when you start a band and then try to work our way up. And I hope we have to decency to quit before we reach a new one.
Question 6: What's the best practical joke one of your band mates
has pulled off on tour?
Andy Milnes:
Maybe the time Nige was asleep in his bunk with his head hanging out, I put toothpaste all over his eyelids, he slept in his drunken state like that for a further couple of hours and when he eventually woke up....you can imagine the result.
I don't know if that was the best practical joke that's happened but
it's the first one that came into my mind.
Andy Morris:
Not a practical joke but Mic created such a stink on a plane once that meant the cabin crew had to spray throughout the entire plane. We also climbed on stage with
Evile
once wearing just our underwear and the tightest Evile shirts we could find on the merch stand, air guitaring through whichever song it was they were playing. Fun times!
Ollie's usually the practical joker of the band, we were travelling from Estonia to Russia, on public transport, and I was feeling rough from vodka the night before. I woke up as we were approaching the Russian border, complete with armed guards that didn't look like they were going to take shit from anyone, I was frantically looking for an immigration card to fill in as all the boys had theirs ready to go, Ollie told me that they were at the back of the bus and to ask the people there where they were as it wasn't obvious. So I stumbled up the bus, asking petrified elderly Russians where the immigration cards were, most of whom ignored me because my clothes were ripped and my jacket was covered in vomit, but others just shook their heads as they didn't understand. I was getting more and more desperate and asked all the other people in the aisle on the way back down the bus about these cards
only to find the rest of
Extreme Noise Terror
and
Desecration
pissing themselves in their seats holding my immigration card. Bastards!
Agamoth:
"I am going home because I don't like the tour bus..." I took it too seriously and fired the guy! ahahahaha!
James Davenport:
We tend to avoid each other while travelling/touring. We all have our own thing to do whether it be promoting the next show, sorting out equipment and helping techs at venues or sleeping.
Kai Leikola:
Can't recall anything worth mentioning. I think the best ones are still ahead, since we learned A LOT of new and excellent practical jokes that are just pure evil touring with
Descend
from their bass player Justin Biggs a few weeks ago, but we haven't had time to put them into use yet. But we will. And then will we have a story to tell!
Question 7: If metal didn't exist! What do you think you'd be doing with your life?
Andy Milnes:
If metal didn't exist I would be a vicar or summit, spreading the word of god ;)
Andy Morris:
Hardcore punk! Thankfully metal does exist, otherwise I'd be driving a wooden car around.
Agamoth:
I'd be dead for sure!
James Davenport:
Inventing it! I haven't really thought about it… probably be in the porn industry... yeah. JD's Adult Entertainment.
Kai Leikola:
I guess I'd be drinking in silence trying to figure out what's missing. With any luck, it would be discovered anew. Instead of lyrics I think I'd be writing poetry, expressing myself through that.
Question 8: What's your craziest experience of your fans?
Andy Milnes:
All our fans have issues... they listen to our music
Andy Morris:
When we were playing at Inferno, we met a huge Aussie
Desecration
fan that had practically everything we've released with him to get signed and wanted photographs with us. That was pretty cool seeing as Norway and Australia are pretty damn far apart and we were one of the main bands he'd come to see, you can imagine our surprise when we saw him a couple of weeks later in Holland at the Neurotic Deathfest, then at Deathfeast in Germany!! What a fucking trooper!
Agamoth:
Being stalked and told that I was loved and this person wanted to move next to my house so he could check on my well being!
James Davenport:
There was this one particular show we played a few years ago where 2 people knocked themselves out while head banging in a club! But I think it HAS to be the crowd at Wacken and also the people who came to watch us at Bloodstock 2008.
Kai Leikola:
I think this question is answered best with the following link. Gotta hail this guy!
And The Most Important question of all!
Question 9: In The event of a zombie apocalypse! What would be your weapon of choice?
Andy Milnes:
A spud gun with a bag king Edwards, them zombie fuckers wouldn't stand a chance
Andy Morris:
Well I recently played Dead Rising on the 360, and unsurprisingly the most satisfactory weapon by far was the bass guitar. The clong as you bash their heads in is hugely satisfying, plus that's the most likely thing I'd have to hand anyway.
Agamoth:
A Vulcan! This weapon is usually installed on jets and it's the one Stallone used in the first rambo movie! Easy. Powerfull, a bit heavy, but surely deadly.
James Davenport:
I hate zombies but definitely a football sock with 2-3 snooker balls in.
Kai Leikola:
Ha! I wouldn't need a weapon 'cos I would be leading the fucking zombies!
Thanks guys for your time, and thank you for reading! Spread the word and they'll be lots more of this to follow.
For More Information On The Bands Interviewed, check out
Hecate Enthroned:
www.hecate-enthroned.co.uk
Myspace Page
Facebook Page
Desecration:
www.desecration.co.uk
Myspace Page
Facebook Page
Abgott:
www.abgott.co.uk
Myspace Page
Facebook Page
Warpath:
www.warpath-online.com
Myspace Page
Youtube Channel
Facebook Page
Soulfallen:
www.soulfallen.com
Myspace Page
Facebook Page